Make no mistake about it, there has never been a better time to be in the cannabis industry. If you own or manage a dispensary, the past few years have probably brought you unprecedented growth, with more and more customers passing through your door every day. Of course, as the market for legal cannabis continues to surge, so too does your competition. What was once a niche industry has now become so thoroughly mainstream that major corporations are dipping their toes in the world of cannabis and CBD sales. In order for you to stay ahead of your peers and maintain repeat business from your customers, you need to find a way to stand out from the pack. By employing some specialized strategies in marketing for dispensaries, you can better position your cannabis business to continue its upward trajectory.
Marketing is an ever-evolving space. There was likely a time when the idea of a billboard advertising a cannabis dispensary's services seemed unimaginable, but now, depending on your location, it is a fairly common sight. Of course, like any business, traditional marketing and advertising practices still hold a place in the 420 community. It is incumbent on you to get your business's name in front of as many eyes as possible in order to ensure maximum engagement. This means standard out of home advertising like billboards and ads on bus benches. You may also want to explore print spreads in various cannabis culture publications. The most important frontier, however, is going to be digital marketing for dispensaries, and if your online presence is lacking, you could be leaving money on the table. Read on to learn about the latest in digital marketing tactics in the cannabis world. 
Search Engine Optimization (SEO)
If you operate a dispensary, you probably have some form of web presence. Even if your website is rather spare and simply relays pertinent details such as your address and phone number, it is better than nothing at all. In truth, however, we are all more online than ever before, and potential customers are no doubt using their phones and mobile devices to locate dispensaries near them. As a business owner, you want to rank highly on search engine results pages (SERPs)–if you think about it, how often do you search out a business or restaurant and scroll back pages and pages to find a result? The answer is probably almost never, and the same is likely true for people looking to locate a dispensary. So, how do you get that high SERP ranking?
Search engine optimization (SEO) is the practice of tailoring a website to be optimally crawlable for Google and other search engines. By utilizing tried and true SEO strategies, you can customize the content on your website to be something more Google-friendly. This is done by the strategic insertion of keywords and the creation of strong, authoritative content. By working with a digital marketing agency that understands the cannabis industry, such as us at Digital Mota, you strengthen the content of your website with an SEO-minded approach.
Marketing for Dispensaries: Content is King
Creating a dynamic and interesting website that tells your brand's story is a great first step to improving your overall digital footprint. That is not, however, the end of your marketing journey. In 2022 and beyond, content remains king in the marketing space, and that means diversifying your web presence with audio, video, and social content. In recent years, podcast listenership has exploded across the board, and cannabis-focused content has grown in this space as well. You may want to look at the prospect of producing this sort of audio material as a way to reach more customers.
People are also consuming video at an exponential rate. This has been a trend for a while, and it shows no signs of slowing down. It is a prudent maneuver for you as a business and brand owner to start a YouTube channel to showcase your dispensary's wares. The social media arena is also an absolute must to enter when it comes to your brand's digital footprint. You should be creating Facebook posts, tweets, Instagram stories, and Tik Toks as a way of reaching your clientele. Influencer marketing is also a growing area–by connecting with influencers in the cannabis space you can potentially get your product in front of a large audience.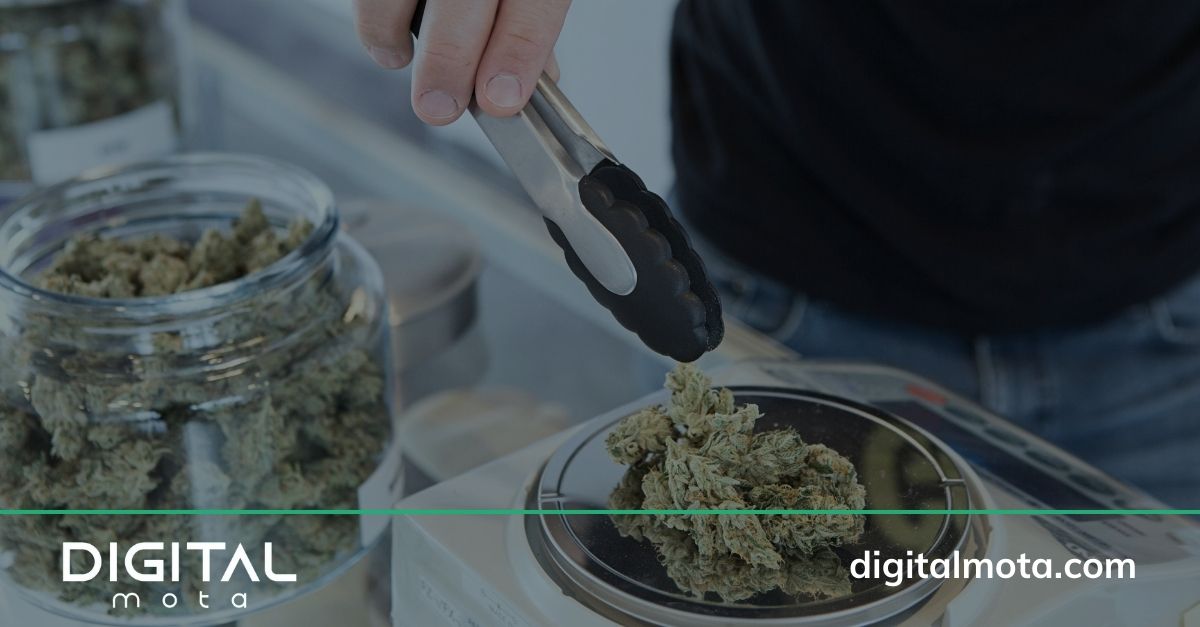 Learn More About Our Digital Marketing Pages
If your dispensary is poised to take that next step, but you need a bit of a marketing push, we can help. At Digital Mota, we can tailor a digital marketing package that is right for the needs of your business. To learn more, or to schedule an initial consultation with one of our cannabis marketing experts, contact us by email or phone at (888)599-5910.