There has never been a better time to be in the cannabis industry. As rules and regulations continue to ease in the favor of business owners, the demand for quality cannabis and CBD products remains high. As you may have noticed, however, that means there is now more competition than ever. While at one point in time you may have been the only dispensary in the neighborhood, new businesses are now popping up left and right, and you need to find a way to effectively separate yourself from the competition. One way in which you can do this is by developing a comprehensive and well-rounded marketing strategy. Marketing for dispensaries is a relatively new space in the advertising world, but by combining tried and true tactics with quality customer service, you can give your customers a reason to keep coming through your door. In 2023, for dispensaries of all sizes, it is a must to have a solid digital presence, and that means more than just a three to five page website.
When you consider how you conduct business yourself, it may dawn on you that most of your commerce unfolds online. Whether it is retail shopping or looking for a professional service nearby, you likely turn to Google to find what you are looking for. Well, this same concept holds true for individuals looking for a dispensary in their area. In order to attract customers in your geographic location, you need to have a good social media presence and a site that employs search engine optimization (SEO) tactics. As 2023 approaches, there are some emerging trends when it comes to digital marketing for dispensaries, and at Digital Mota, we can help you develop a marketing plan that is right for your cannabis business. Read on to learn about how your business can continue to reach new clientele in the new year.
Micro-Influencers in the Cannabis Market
Marketing a product well means getting it in front of a relevant audience. In an increasingly online world, it can be difficult to know where your audience is, and traditional advertising methods, such as out of home (OOH) campaigns, can be a bit tricky in the cannabis world. One avenue that can work well in marketing for dispensaries is working with micro-influencers on YouTube, Instagram, Tik Tok, and other social media networks. Influencer marketing as a platform is expected to be a nearly $100 billion industry by 2030, so it may be wise to jump on this trend now. Micro-influencers, who are in the 10,000 to 100,000 follower range, can provide solid value, particularly if they produce content in the cannabis space. Networking with these types of influencers can help you reach a more diverse audience that is willing to engage. 
Optimize Your Website for Voice Search
More and more people are turning to their Alexa or Siri devices when they are searching for products and services. While this has made it easier to find what you are looking for on the go, it has had a substantial impact on how websites should approach their SEO strategies. For instance, for a long time the use of simple keywords, such as "cannabis dispensary," or "weed dispensary," could be employed strategically on a website in order to be crawled by Google and other search engines. Voice search, however, is creating a need for more conversational keywords, e.g., "Is there a dispensary near me?" An effective digital marketing agency, such as ours at Digital Mota, can work with you to optimize your web presence for voice search in 2023.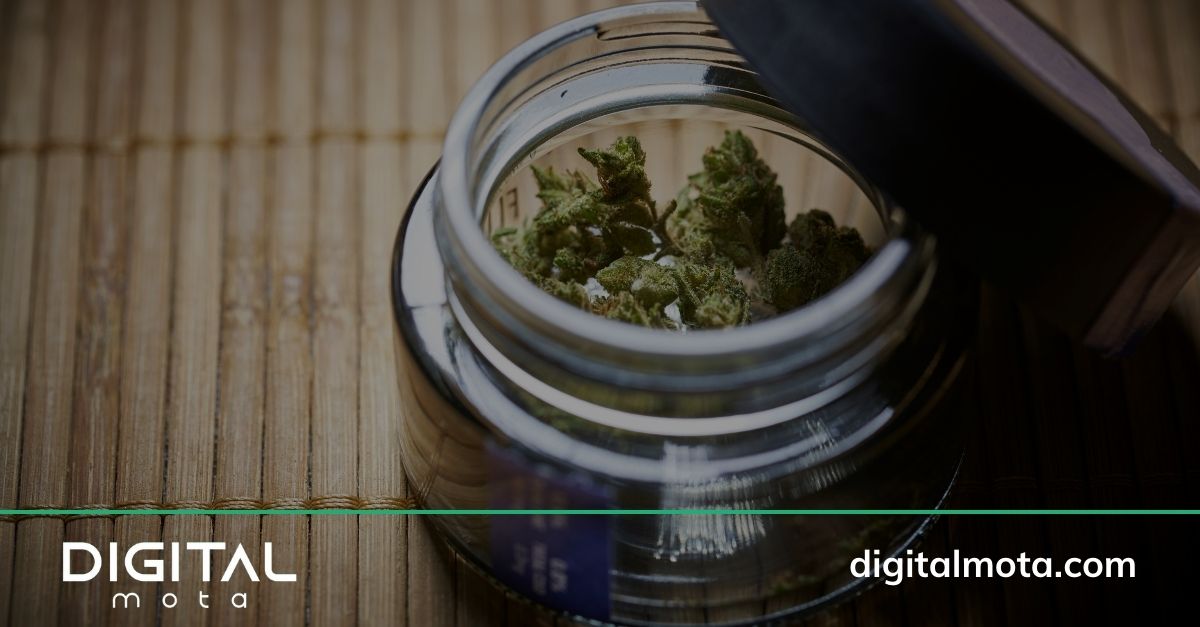 Marketing for Dispensaries: An Increase in Video and Audio Content
During the pandemic of 2020, there was a noticeable surge in the demand for audio and video content. This trend has continued on, and we can expect 2023 to be a big year for content on YouTube and podcast platforms. As a cannabis business owner, you would be prudent to consider a foray into this area, as it can help you drive conversions. Not only can you create authoritative content in video and audio formats relatively cheaply, that content is also easy to promote and share on social media. Posting a video on YouTube is not only more cost-effective than a commercial on TV, it has the potential to reach a larger, more relevant audience.
If you are looking up your digital marketing game in 2023, look no further than the pros at Digital Mota. We have a number of digital marketing packages for every budget, and we take a multifaceted approach that aims to deliver results. To learn more about how we can help your business reach new heights, call us today at (888)559-5910 and schedule your initial consultation. You can also visit our contact page to send us an email.