Digital marketing is the first step to taking your business to the next level. But how can you know which dispensary development packages are suitable for your brand? Digital Mota is here to guide you through the process so you can choose the right services and elevate your business. Here's everything you need to know. 
Which Package Is Right for You?
As a business owner, you already know the importance of an adequate marketing budget with room for digital techniques. Choosing the right package with the right services is crucial to elevating your dispensary. 
Digital Mota provides three different package tiers: Bronze, Silver, and Gold. Each package has advantages explicitly designed for your brand's size and scale. Each package is based monthly, and a six-month minimum contract is required, while 6-9 months is preferred for the best results. 
The Bronze Package
The Bronze Package might suit your business if you're a small cannabis brand starting to grow. The Bronze Package is an affordable option with entry-level services to help take your business to the next level. The package includes:
15 Keywords

1 Social Media post every week

2 Blogs

Online Content Creation

2 of Hours Web Maintenance

40 Approximate Backlinks
The Bronze Package is designed to elevate your brand to the next level. With 15 research-backed keywords, we'll create high-quality content that drives organic traffic to your site and services. The 40 approximate backlinks help rank your website higher in search results and start to place your business as an authority figure in the industry. 
The Silver Package
The Silver Package is best suited for dispensaries and up-and-coming cannabis brands. The main advantage of the Silver Package is that you start to reach a higher echelon with high-quality social media content, videography, and photoshoots. The Silver Package includes the following:
35 Keywords

2 Social Media Posts Weekly

4 Blogs

Online Content Creation

Paid Advertising Management

4 Hours Web Maintenance

5 Keywords for Google My Business

2 Stories and 1 video per month

1 photo shoot every three months

80 Approximate Backlinks
The Gold Package
The Gold Package is the highest tier we offer and is best suited for well-established dispensaries and cannabis brands. We offer total customization with the Gold Package, allowing you to focus on the most essential aspects and take your brand to the next level. The Gold Package includes the following benefits:
70 Keywords

4 Social Media Posts and 4 Stories Weekly

8 Blogs

Online Content Creation

Paid Advertising Management

8 Hours Web Maintenance

10 Keywords for Google My Business

Four stories and two videos per month

1 photo shoot every month

150 Approximate Backlinks

Total Customization Available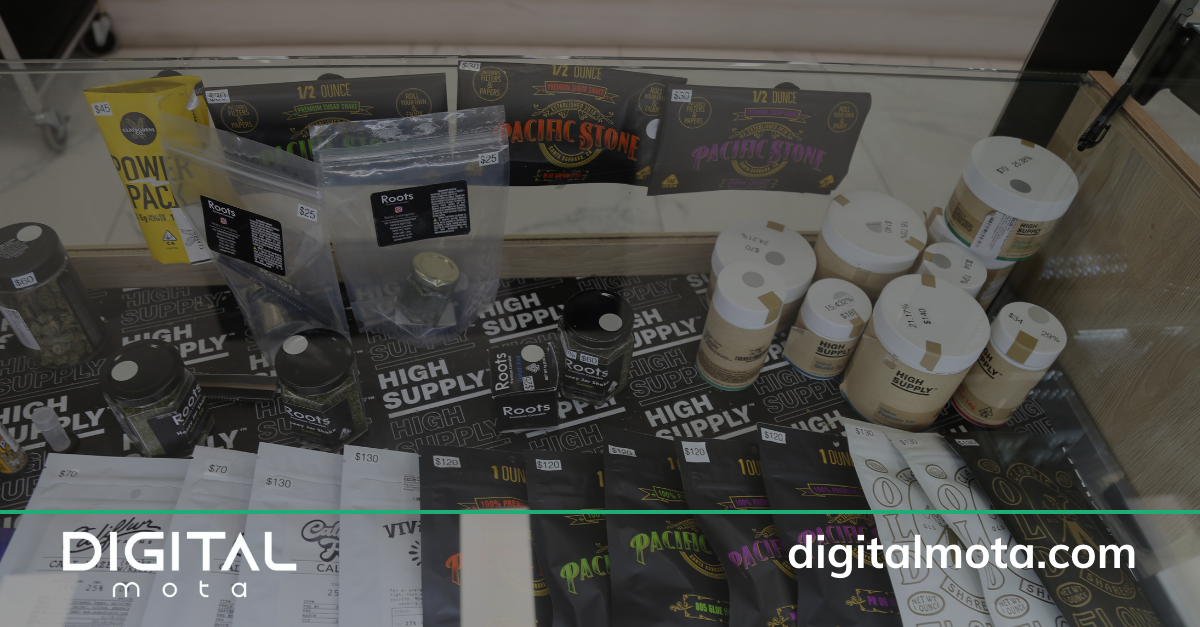 Purchase Professional Dispensary Development Today
Separating yourself from the pack is essential in the digital age, especially in the cannabis industry. Your industry is crowded with competing brands, products, and dispensaries, all vying for the top spot. Digital Mota is here to revolutionize your online presence with proven marketing techniques and high-quality content creation. 
We can take your dispensary to the next level with curated content, social media advertisements, and premium videography. If you're serious about increasing your brand recognition, contact Digital Mota at (888) 559-5910 or use the online contact form.