Everyone uses social media daily to connect with friends and businesses. As a business owner, you know the importance of a proper digital marketing campaign that includes social media content. But which social media platforms should you use for dispensary digital marketing? Digital Mota is here to provide everything you need to know. 
Why Social Media is Crucial
Your social media page is one of the first places potential customers will go to see your brand. If your social media presence is lacking, you'll lose out on potential customers and halt your growth entirely. 
Each social media platform allows you to reach a different user base and engage customers. Other platforms have distinct advantages, disadvantages, and best-use cases. But which platforms will benefit your cannabis brand or dispensary the most?
Instagram
Instagram is one of the first places users view a brand or service. In fact, 90% of users follow at least one business on Instagram. You're probably wondering, "What kind of content should I create on Instagram?"
Short-form content and videos reign supreme on Instagram. Videos on Instagram receive over 20% more user interaction compared to images. Furthermore, videos receive 18% more interaction than carousels. With 44% of Instagram users shopping for products each week, it's essential to use high-quality videography that drives results. 
Facebook
Facebook can sometimes be overlooked in favor of Instagram or TikTok. However, Facebook is a fundamental component of any digital marketing campaign. Facebook helps you reach a different user base than other social media platforms. You can reach an older audience above 25 and between 35-44.
Facebook advertisements help you reach more customers. In fact, 50% of consumers discover new brands and products through Facebook Stories. With the right tools, you can make Facebook an effective channel for promoting your services and brand. 
TikTok
TikTok gained extraordinary amounts of popularity in recent years, and it's become a fundamental element of social media marketing campaigns. You can use TikTok ads to reach over 15% of all internet users aged over 18. 
Digital Mota will create engaging short-form content that pulls customers through your door. We enhance your online presence through high-quality videography and photography that reflects your values, professionalism, and story. We've worked with countless giants in the cannabis industry, providing us with the expertise to take your brand to the next level. Let Digital Mota elevate your brand today.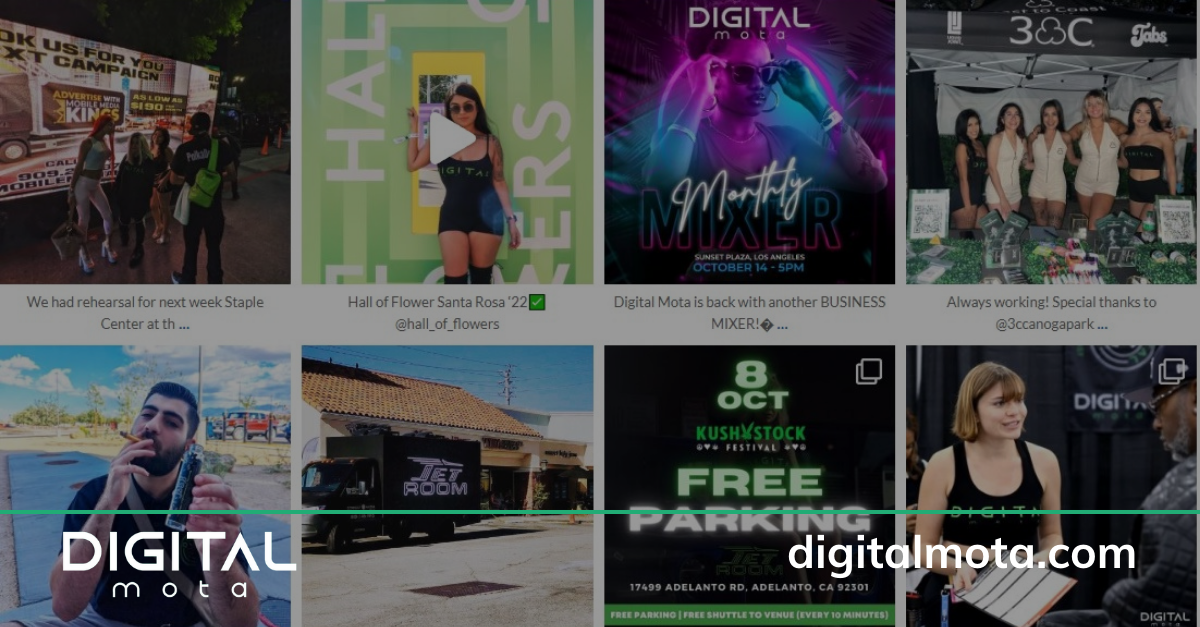 Purchase Professional Dispensary Digital Marketing Services Today
Separating yourself from the pack is essential in the digital age, especially in the cannabis industry. Your industry is crowded with competing brands, products, and dispensaries, all vying for the top spot. Digital Mota is here to revolutionize your online presence with proven marketing techniques and high-quality content creation. 
We can take your dispensary to the next level with curated content, social media advertisements, and premium videography. If you're serious about increasing your brand recognition, contact Digital Mota at (888) 559-5910 or use the online contact form.